Everything You Need to Know Concerning the Sale of a Used Toyota Camry
Dec 11
You are selling a pre-owned Toyota Camry. If so, it is necessary to know the stages and methods involved in selling this iconic automobile. The Toyota Camry is one of the most popular automobiles on the market today, but selling it can be tough. This article will help you understand how to sell your Toyota Camry, from pricing and advertising to closing the sale.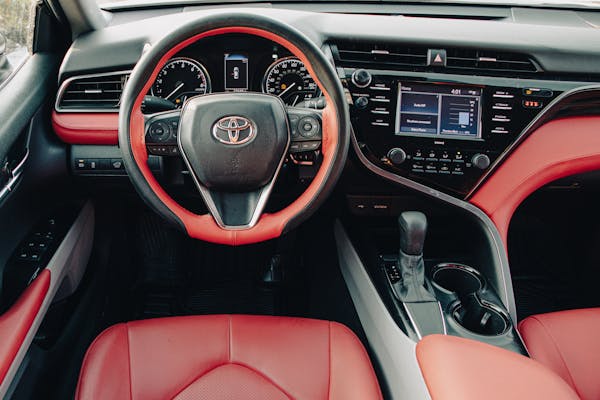 What is the meaning of Toyota Camry?

Since 1982, Toyota has produced the popular midsize car Camry. Due to its reputation for durability and affordability, it is one of the most popular automobiles on the market. The Camry offers numerous benefits, including outstanding fuel efficiency, high safety ratings, and a comfortable interior.
The Toyota Camry is available in a variety of trim levels, allowing purchasers to choose one that matches their budget and needs, like the Toyota Camry Solara, Toyota Camry Hybrid, Toyota Camry SE, etc. There are several engine alternatives available, such as 4-cylinder and V6 engines. Standard equipment on the Camry includes air conditioning, power locks and windows, cruise control, traction control, and a sophisticated infotainment system. Given their combination of features, value, and usability, it's hardly surprising that Toyota vehicles have been so popular for so long.
How Can You Maximize Your Profits When Selling Your Used Toyota Camry?

Investigate Market Value

Prior to selling your used Toyota Camry, it is crucial to determine its current market value. Examine classified advertisements and websites like Craigslist and AutoTrader to acquire a better grasp of the selling prices of comparable vehicles. Additionally, you can use online resources such as Kelley Blue Book or Edmunds to evaluate the value of your vehicle. When selling your Toyota Camry, knowing its market value can assist you in setting a competitive price and maximizing your profit.
Preparing to Sell Your Car

Washing and waxing your Toyota Camry will keep it in good running condition. Consider making any little repairs to raise the asking price.
In addition, you must document all maintenance and repairs made on the vehicle. Create a folder collecting records of oil changes, brake work, and other maintenance for prospective buyers to inspect. In addition, study the owner's manual for important information regarding the sale of your Toyota Camry.
Value Your Automobile

When evaluating the selling price for your Toyota Camry, you should consider the market worth of comparable vehicles as well as any repairs or upgrades you may have undertaken.
When selling your Toyota Camry, you should also be open to negotiation. Be moderate with your selling price, and examine all offers. If an offer is lower than the asking price but within an acceptable range, it may be worthy of consideration.
Promote Your Vehicle

Publicize your Toyota Camry in newspapers and vehicle publications, both online and in print. Include exhaustive information about the vehicle's condition, selling points, and price.
You can provide information about any car modifications in your listing. These elements include alloy wheels, heated seats, leather seats, and exterior design.
Also consider putting graphics in your advertising. Pictures can help potential buyers have a better sense of the condition of your Toyota Camry, and they may boost the likelihood of a sale. In addition, be sure to include correct contact information and the vehicle's history so that interested persons can immediately reach you.
Exhibits and Test-Drives

Prepare for prospective purchasers to inspect your vehicle and maybe test-drive it. Ensure that you have all the necessary paperwork, including the registration and title, in the event that they decide to purchase.
Be present during showings and test drives to answer prospective buyers' questions. Verify that the prospective buyer has valid auto insurance and a valid driver's license before allowing them to take the vehicle for a test drive. You should also bring a friend or family member to talks with potential buyers, just in case something goes wrong.
Negotiations

Be receptive to negotiations with potential buyers and open to change the selling price as needed. Make certain that both parties are satisfied with the selling price.
Be prepared for buyers to request a lower selling price, especially if the car has issues that must be repaired. If the buyer's offer is realistic and within your accepted selling range, it may be beneficial to accept it. However, you must also determine if the selling price meets your expectations and if it is worthwhile to sell the vehicle at this price. For both parties to have a positive purchasing experience, negotiations must be conducted fairly and professionally.
Completing the Sale

Once a selling price has been agreed upon, execute all necessary paperwork and ensure that both parties retain a copy. Provide the buyer with the vehicle's keys and any other documentation specified in the sales contract.
Ensure that you collect the whole cash before giving over the vehicle. Additionally, you may wish to consider preparing a bill of sale, which is a contract stating the terms and conditions of the purchase. This document should contain the selling price, the buyer's name and address, the car's year and model, the vehicle identification number (VIN), and the odometer reading. Remember to sign and notarize the document to make it legally enforceable. Remove your license plates prior to relinquishing ownership of the car. Important for legal compliance and the selling of your Toyota Camry.
Congratulations

Congratulations! Now that you have successfully sold your Toyota Camry, you can move on to selling another vehicle. Enjoy the extra money in your pocket. Now that you have money, you may be planning to buy a new car.
Final Considerations

The process of selling your Toyota Camry might be lengthy and complicated, but it need not be scary if you are well-informed. Ensure that you have realistically priced, advertised, prepared for showings and test drives, negotiated fairly, completed all necessary paperwork, and collected full payment prior to turning over the vehicle. These tips might make selling your Toyota Camry a profitable and stress-free effort. Best wishes with the sale of your car!